Can Cats Eat Seaweed? 7 Reasons Why They Should
Can Cats Eat Seaweed? Is Seaweed safe for Cats?
I've been trying to lead a healthier life, and, in the process, I stumbled on Irish sea moss. As with any furrparent, I was curious whether these sea vegetables are safe for my little buddy. So, can cats eat seaweed? I did some research and here is what I found.
Can cats eat seaweed?
Yes, cats can eat seaweed in most cases. Seaweed can provide some small nutritional benefits, but care should be taken when feeding it to cats because they can be sensitive to iodine. The most common types of seaweed eaten by cats are kelp, nori, and dulse. As seaweeds are found all over the world, it makes them a popular supplement choice for pet owners around the globe.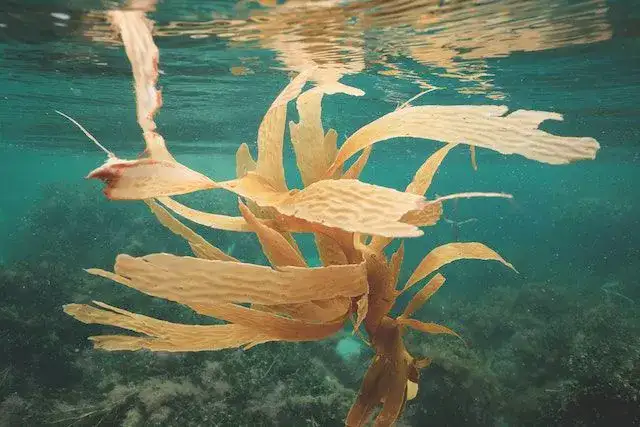 Should cats eat seaweed?
Although cats can eat seaweed, they should not take it daily. It is important to only feed your cat seaweed that is being sold by a reputable company, as some types of seaweed can be harmful to their health. Seaweed is also a medicinal food and should be treated as such.
Is seaweed safe for cats?
Seaweed is perfectly safe for cats. However, cats can only eat them in small portions. This is because sea vegetables are high in sodium and cats can quickly get sodium poisoning.
What are the nutritional benefits of seaweed for cats?
1. Source of vitamins and minerals for cats
Seaweeds are packed with several nutrients that are beneficial to your kitto. Calcium helps in bone formation and maintenance. Copper and iron prevent your furry bestie from getting anemia.
The vegetables also have phosphorus, magnesium, potassium, and manganese. However, it also has high sodium levels and should be taken in moderation.
2. Source of protein for cats
Seaweeds are a great source of plant-based protein for cats. They are a good source of essential amino acids, fiber, minerals, vitamins, and antioxidants.
Keep in mind that felines need animal protein to survive. This means that sea vegetable proteins should only supplement.
At no given time should it be the main source of protein for your kitto.
3. Source of antioxidants for cats
Seaweed is a source of antioxidants that can protect cats from disease. The high levels can neutralize free radicals and protect the feline body from chronic or life-threatening diseases.
Sea vegetables may also alleviate the suffering associated with existing illnesses. The anti-inflammatory effects reduce joint swelling and pain levels.
4. Can help improve the health of cats' skin and coat
Cats with sensitive skin may benefit from eating seaweed-based cat food. Sea vegetables may reduce skin dryness, redness, and irritation.
The omega-3 fatty acids in seaweed can also help keep a cat's coat shiny and healthy.
5. Seaweed can help improve digestion in cats
Seaweed can be helpful for upset stomachs and deworming in cats. Its mineral content can also help address intestinal tract challenges. Sea vegetables are a source of prebiotics that provide healthy bacteria to the gut of cats.
6. Prevents cancer
Seaweed can attack cancer cells in a few ways, including balancing a cat's body's pH, attacking free radicals before they cause damage, preventing metastasis, and keeping blood glucose levels low.
Different types of seaweed combat cancer in cats in different ways. However, they all offer significant cancer-fighting properties for your cat.
For example, Dulse. It has cesium that helps remove carcinogens from your cat's digestive tract. It tastes like an oyster so it shouldn't be hard to make this appeal to your cat and their bodies can easily digest it as well.
7. Firm up loose bowel movements
Cats can benefit from eating seaweed due to the nutrient dense content. It's is a great source of vitamins, minerals, and amino acids which can help firm up loose bowel movements and prevent cancer.
Additionally, the sea vegetables are packed with fiber which is essential for cats. Fiber helps to maintain a healthy gut and promotes good bowel movements.
Seaweed also contains prebiotics, which aid in the maintenance of beneficial bacteria in the gut.
If your pet suffers from sensitive stomach, consult with a veterinarian first before adding seaweed to his diet.
Is seaweed good for cats' teeth?
Yes, seaweed is good for cats' teeth. The sea vegetable can greatly reduce the buildup of plaque, cavities, and gum disease in cats. It contains Ascophyllum nodosum, which has powerful bio-actives that support oral health. By eating seaweed, cats can help maintain their teeth and gums in good condition.
Edible seaweeds for your feline
Now that we've established that cats can safely eat seaweeds, time to find out which are safe for your cato
1. Can cats eat Acadian Sea Kelp?
Cats can eat Acadian Sea Kelp safely. The seaweed is a great source of minerals and vitamins for cats. It grows in cold waters and is known for boosting the immune system. Kelp is a great addition to your cat's diet and can be found in different brands. The amount of Kelp you give your cat has to be monitored by a vet.
Seeing Kelp is high in sodium, it's best to only dive your kitto a small amount. Additionally, give them plenty of water after eating the seaweed.
2. Can cats eat dulse?
Cats can safely eat dulse. It is a healthy, easily-digestible seaweed that is rich in iron, cesium, beta-carotene, and Vitamin B12. All of these nutrients act as thyroid stimulators and are important for your cat's health.
Dulse also has cancer-preventing properties due to its high cesium content. You can add dulse to your cat's diet by powdering it and adding it to their food.
3. Can cats eat Irish moss?
Felines can safely have Irish moss in moderation. The seaweed supports the health of different organs in your pet's body. It is rich in vitamins and minerals, including calcium, potassium, and magnesium. Irish moss also contains carrageenan, a substance that helps to soothe the gastrointestinal tract.
Irish Moss also contains calcium chloride, an essential element that acts as a heart tonic and improves kidney function.
4. Can cats eat nori?
Cats can safely eat nori. Nori is the edible seaweed that's used to wrap rolls of sushi and used in a wide range of Japanese dishes.
The seaweed is packed with vitamins, minerals, and other nutrients that are important for your cat's health. It has vitamin A, vitamin C, and various types of vitamin B, as well as minerals like iron, iodine, and manganese.
5. Can cats eat kombu?
Cats can safely eat Kombu. It is one of the largest sea vegetables and is very rich in protein. The seaweed is also rich in other nutrients like glutamic acid and iodine, making it a great flavor enhancer.
Additionally, kombu is rich in mineral salts, which can benefit your cat's stomach, liver, and kidney functions.
Your cat will not only be benefiting from its health benefits but also enjoying a tastier meal with kombu seaweed.
6. Can cats eat wakame?
Cats can eat wakame safely as it's in moderation. It contains many nutrients and health benefits for cats. For example, reducing blood pressure and cholesterol levels, improving heart health, fighting obesity in cats, promoting metabolism regulation, and more.
The seaweed is rich in Omega-3 fatty acids which help a cat's coat. It also contains among other nutrients Fucoxanthin which helps fight obesity in cats through metabolism regulation.
Wakame also has chlorophyll which supports the immune system. Wakame has a strong flavor like Nori but is less salty. This makes it an excellent pick since too much salt is lethal to cats.
7. Can cats eat sea lettuce?
Cats can safely eat sea lettuce. The seaweed is high in iron and cesium. This can improve your cat's digestive system. Cesium helps extract carcinogens from the digestive tract.
The sea lettuce is easy to digest and tastes more like an oyster, making it a delicious treat for your pet.
8. Can cats eat blue-green algae?
Cats can eat the blue-green algae and it's an excellent source of nutrients for your feline. It's rich in minerals, including cesium which helps prevent cancer and is beneficial for your cat's digestive health.
These algae can easily be digested by your cat and shouldn't cause problems. You can add it to your cat's diet by drying it out, turning it into a fine powder, and adding it to their food.
Is the sushi, wrapped in nori OK for cats?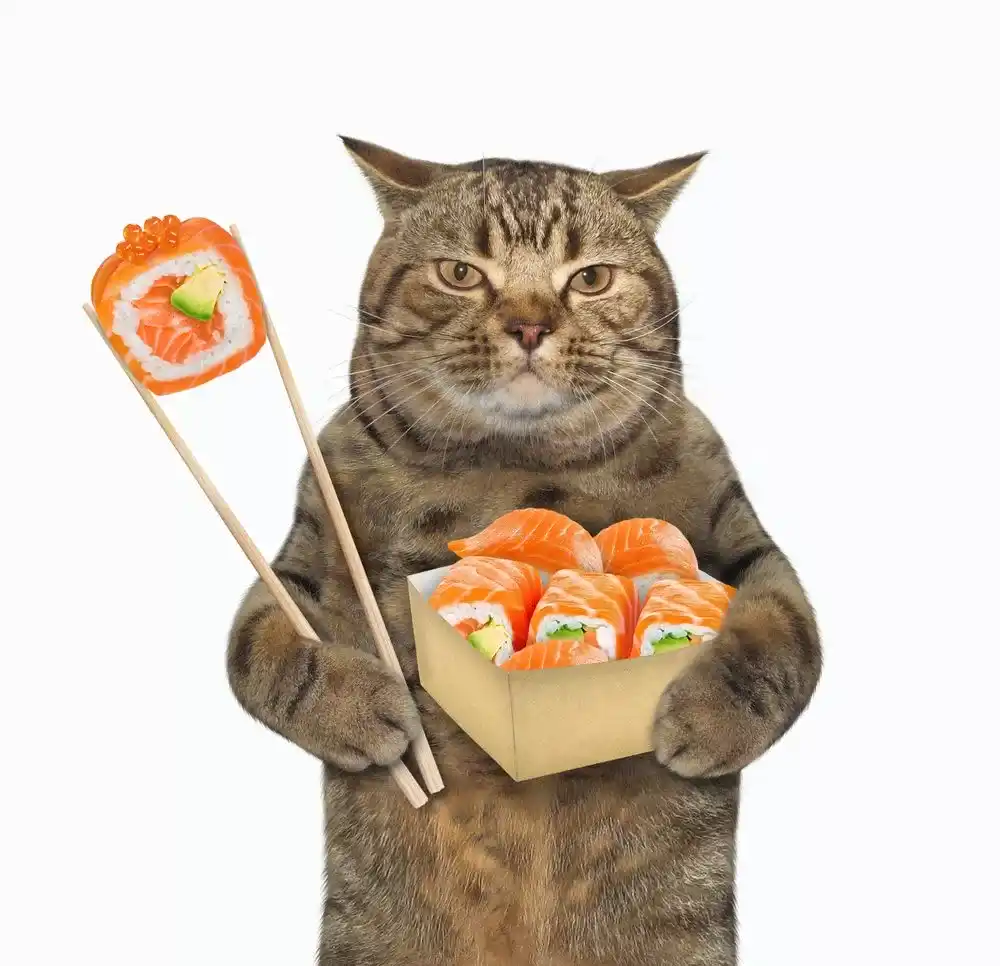 Although cats can safely eat nori, sushi is not OK for them. Nori sheets are needed to make sushi because they are either on the outside or inside the sushi roll, depending on the type of sushi. This sea veg is a good source of omega-3 fatty acids and can be a good source of protein for cats.
When it comes to sushi though, I can't praise it as much. The seafood exposes your kitto to bacteria that sometimes can be lethal. I've prepared this cool article going over why cats shouldn't eat sushi.
How to feed seaweed to your cat
Sprinkle dried seaweed onto your cat's food. Alternatively, you can mix it in with wet food to make it more palatable.
How much seaweed should a cat eat?
A small sprinkle of seaweed on your cat's food is all that is necessary to help balance out their diet. Sea vegetables should only be treated as a treat and should not be taken on a regular basis.
Only feed your cat fresh, human-grade seaweed. Limit it to a few bites at a time and avoid giving them leftovers or products that have been sitting for too long.
It is always best to check with your vet before giving your cat seaweed. This is because the amounts can vary depending on their size, age, and health.
Can cats eat seaweed with salt?
Feeding your cat seaweed with salt can be harmful, and can lead to vomiting, lethargy, and diarrhea. If you think your cat has had too much salt, take them to the vet right away.
Excessive amounts of salt can cause salt poisoning. Your catto will need intravenous fluids and may need to be treated for an underlying disorder.
Always give your cat seaweed without salt to rule out any potential health risks.
FAQ
Is there any health risk of feeding nori to a cat?
If you moderate the amount of nori that you feed to your cat, there is no health risk involved. In fact, nori can be a healthy snack for your cat. It is a good source of vitamins and minerals and can help with digestion.
Can kittens eat seaweed?
Kittens cannot eat seaweed. Their stomachs are highly sensitive and may not be able to properly digest the sea veggies.
Can cats eat seaweed chips?
Cats can eat seaweed chips. However, it should be in moderation as too much can harm your kitto.
Can cats eat seaweed snacks?
Yes, cats can eat seaweed snacks. Cats love to eat seaweed and it provides them with many health benefits. The sea vegetables are a great source of vitamins, minerals, and antioxidants. It can help boost the immune system, improve digestion, and even help prevent hairballs.
Can cats eat seaweed sheets?
Cats can eat seaweed sheets but be mindful of the caveats. You should only feed your cat seaweed that is being sold by a reputable company. This is because it's more likely to be tested for heavy metals, pesticides, and other potentially harmful contaminants.
Can cats eat sesame seaweed?
Yes, cats can eat sesame seaweed. Sesame seeds are a beneficial source of fiber for cats. However, they should be given in moderation. Cats can get stuck in sesame seeds' small teeth, and may eat too many if given freely. It may lead to choking. In large quantities, they're toxic to cats and can make them sick.
Can cats eat dried seaweed?
Cats can eat dried seaweed, provided it is from a reputable company. Some types of seaweed are better than others for cats. You should only feed your cat some human-grade sea vegetables.